We are closed for the 2020 season. Thank you for all that who have supported us this season. We will see you in the spring of 2021, be well.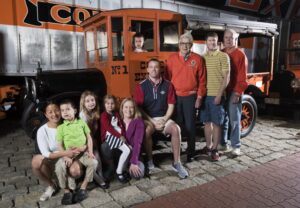 Four Generations of the Cole Family at the museum.
May 26, 2020
A STATEMENT FROM THE COLE FAMILY.
On behalf of the Cole Family, Gary Cole would like to express his gratitude to the community for an outpouring of kind words and support after our founder's passing in January.  We are all saddened that this, the first year without him, the museum has been unable to open.  I want to assure our community that the museum will open again when it is safe to do so.  My Dad was always a good planner, we have second and third generation Cole family members along with several community members actively involved to assure the museum's well being for generations to come.  We look forward to opening our doors again and hope you are all staying safe and healthy.
Preserving the vehicles; those who made, used and maintained them; and challenging children to higher aspirations.
KIDS 18 AND UNDER ARE ALWAYS FREE!
Our purpose at the Cole Land Transportation Museum is to collect, preserve, and display (before they disappear forever) a cross section of Maine's land transportation equipment from which this and future generations will gain knowledge of the past.
We also wish to remember, record and display U.S. military memorabilia to forever remind this and future generations of the high price our comrades have paid to protect our freedom. In doing so, we hope to inspire and challenge the young people of today to continue on in the footsteps of pioneers who have built our state and country.