***
Check out our Events page and our Facebook page for more updates.
***
In partnership with Realty of Maine we proudly present our virtual tour.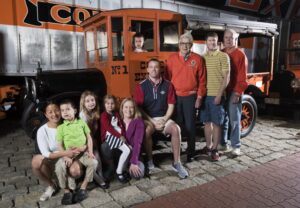 Four Generations of the Cole Family at the museum.
KIDS 18 AND UNDER ARE ALWAYS FREE!
Our purpose at the Cole Land Transportation Museum is to collect, preserve, and display (before they disappear forever) a cross section of Maine's land transportation equipment from which this and future generations will gain knowledge of the past.
We also wish to remember, record and display U.S. military memorabilia to forever remind this and future generations of the high price our comrades have paid to protect our freedom. In doing so, we hope to inspire and challenge the young people of today to continue on in the footsteps of pioneers who have built our state and country.