JANUARY 15, 2020. We are saddened to announce the passing of our founder, WWII Veteran, and Purple Heart Recipient Galen Cole. A public service will be held January 25, 2020 at 11:00 AM at the Anah Shrine Center, 1404 Broadway, Bangor. All recipients of walking sticks are invited to attend and proudly carry and use them. In lieu of flowers the Cole Family has asked that you consider donating to one of the following: 
The Galen Cole Family Foundation, 359 Perry Road, Bangor, ME 04401.
or, 
Bangor Savings Bank fbo Suzanne & Galen Cole Donor Advised Fund, P.O. Box 656, Bangor, ME 04402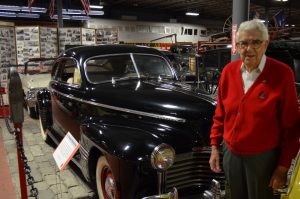 Preserving the vehicles; those who made, used and maintained them; and challenging children to higher aspirations.
KIDS 18 AND UNDER ARE ALWAYS FREE!
Our purpose at the Cole Land Transportation Museum is to collect, preserve, and display (before they disappear forever) a cross section of Maine's land transportation equipment from which this and future generations will gain knowledge of the past.
We also wish to remember, record and display U.S. military memorabilia to forever remind this and future generations of the high price our comrades have paid to protect our freedom. In doing so, we hope to inspire and challenge the young people of today to continue on in the footsteps of pioneers who have built our state and country.