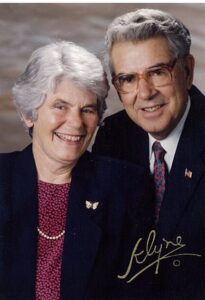 A 1944 graduate of Bangor High School, Galen was a combat infantryman with the U.S. 5th Armored Division and lost his entire squad, 5 killed and 8 wounded fighting in Germany on April 2, 1945. A recipient of the Purple Heart and Bronze Star, he served as president of the 5th Armored Division Association and three times hosted the group's annual reunion in Bangor, including its final reunion in June 2012.
He worked 50 years for Cole's Express, including decades as president, growing the company to a regional carrier serving Maine, northern New England and the Canadian Maritimes.
Galen served on and led over a lifetime scores of civic, charitable, military and business groups. He was elected in 1955 to the Bangor City Council at 29, and was mayor in 1958. His life of service included terms as president or chairman of: The Bangor Chamber of Commerce, Bangor YMCA, Target Area Development Corp., Down East Friends of Jackson Laboratory, Associated Industries of Maine and UM College of Business Advisory Board. He served 24 years on the University of Maine Development Council, several as its president. He was an Honorary Alumnus and received the coveted Black Bear Award for outstanding service.
The Military Order of the Purple Heart selected Galen for its National Americanism Award. He was an honorary member of the Maine National Guard and received the Distinguished Service Award from the 101st Air Refueling Wing. He led the Dedication Committee for the I-395 Veterans Remembrance Bridge and was selected chairman for Bangor's celebration and parade marking the 50th anniversary of the end of World War II. In 1994, he helped patriots from Luxembourg form the US Veterans Friends Luxembourg, and served as its honorary president. The Maine American Legion named him Citizen of the Year and later presented him the Distinguished Service Award.
Galen received the Norbert X Dowd Lifetime Achievement Award from the Bangor Chamber of Commerce, the Business Leader of Maine Award from the Maine Chamber of Commerce, the Friend of Education Award from the Maine Education Association and an Honorary Doctorate of Business Administration from Husson University. He served 32 years on the boards of directors of Merrill Trust Bank, Merrill Bankshares and Fleet Bank. He was a board member of Central Maine Power Co. and Eastern Maine Medical Center. In 1968, he served as Potentate of Anah Shrine. Galen served terms on the vestry, followed by service as Junior, later Senior warden, of Bangor's St. John's Episcopal Church.
In 1990, Galen and his wife, Sue, created and opened the Galen Cole Family Land Transportation Museum, which has been visited by more than half a million people from all 50 states, every Canadian province and dozens of foreign countries. Galen considered his highest public honor the gift of 77 Maine antique vehicles even before construction of the Cole Museum was begun. Since its opening and from all corners of Maine, more than 50,000 Maine schoolchildren have interviewed veterans in the museum's Ambassadors of Patriotism program. Maine made maple walking sticks have been given to more than 10,000 Maine veterans of World War II, the Korean War, the Vietnam War and the Global War on Terrorism.
Galen was proud to have the museum grounds the home of several patriotic monuments, among them the Maine World War II Memorial, The Maine Vietnam War Memorial, The Maine Purple Heart Memorial and Bangor's World War II Memorial.
Galen's highest honor was the 73 year marriage to his childhood sweetheart, Suzanne (Welch) Cole, who predeceased him in 2017. Now 3rd and 4th generation Cole family members are helping assist dozens of volunteers to assure the continuation of programs for generations to come safeguarding the guiding principle that the Cole Family Foundation will strive always to be Maine's most efficient charitable organization, following Galen's commitment to God in WWII if allowed to return home from that war he would work to leave his fellow man better off than he had found them. Galen Cole passed away on January 9, 2020. His legacy will live on for generations.
Don Carrigan's Tribute to Galen Cole 
Galen Cole, Freedom Isn't Free