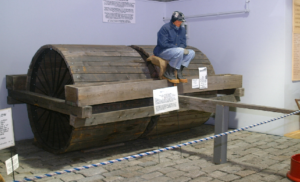 The Snow Roller! Did you know that prior to the invention of the snowplow, snow that accumulated on roadways and streets was packed by a snow roller? In rural areas, residents provided horse teams to pull the roller while it was in their neighborhood. A minimum requirement was two teams of horses, but often the depth and density of the snow dictated the necessity of as many as four teams.

This snow roller was salvaged from the outskirts of Twitchell's Airport in Turner, Maine. The Union Iron Works in Bangor, Maine, originally manufactured it in the early 1900s. In the 1940s Gordon Twitchell and his father brought it from Leeds, Maine, to their airport in Turner, Maine. They intended to pack snow on the runway to facilitate landings and takeoffs by ski planes.
Perhaps never used, it was left to deteriorate in the woods for about 30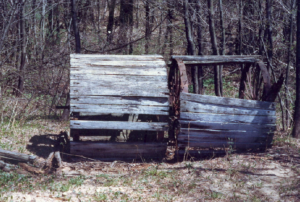 years until John Beale of Auburn, ME discovered it in 1988. Twitchell's Airport donated it to the museum in 1988. Galen Cole and the employees of Coles Express rebuilt it for this Museum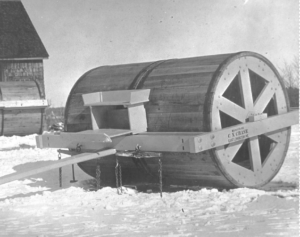 using the model of a snow roller that was renovated for the Monson Historical Society collection. The four iron wheels and two axles were intact, but the lags were either missing or in very poor condition. With the use of photographs and other research, the Museum was able to restore it to closely resemble its original condition.