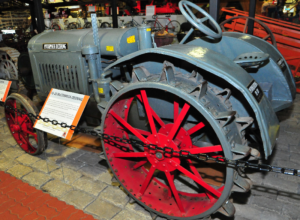 This week's "Museum Feature of the Week", is the McCormick-Deering 10-20 Tractor! This 10-20 McCormick-Deering tractor, built in 1927, was designed to pull agricultural machines: plows, harrows, planters, hay-making machines, harvesting machines, manure spreaders, etc. and provide belt power to equipment such as feed grinders, sawing machines and threshing machines. The designation "10-20" means its four cylinder engine could produce 10 horsepower to the drawbar and 20 HP on the belt. It has a four cylinder engine with a 3-speed transmission.
In 1982, Mrs. Eugene E. Brown of Bangor, Maine donated it to the University of Maine Agricultural Engineering Department in memory of her husband Dr. Eugene E. Brown. University of Maine Bio-Resource Engineering students restored and permanently loaned it to the Museum in 1989.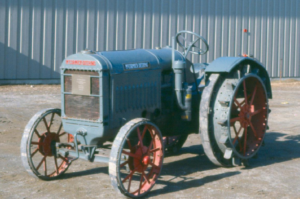 International Harvester Company was formed in 1902 by the merging of five companies. McCormick Harvesting Machine Company, Deering Harvester Company, Milwaukee Harvester Company, Warden Bushnell & Glassner Company, and Plano Manufacturing Company. International Harvester Company later became part of a larger corporation with Case after 1985.
Cyrus Hall McCormick, Jr., (his father invented the mechanical reaper in 1831) and William Deering were key figures in this new company giving rise to the name McCormick-Deering. Their name started appearing on all their farm machinery after the antitrust settlement with the federal government around 1922. Between 1923 and 1939, roughly 215,000 10-20 McCormick-Deering tractors were manufactured.