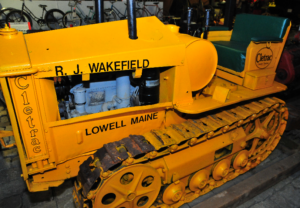 This week's "Museum Feature of the Week", is the Cletrac Crawler! This feature was built in 1936 and was used in the logging industry. The model designation of "EN" refers to "Extra Narrow" which is showed by its 3′ 4″ width and only 8′ length. For the woods operator who carefully selects trees to be logged, the EN was highly regarded for it required little more space than a good draft horse.
Its 4-cylinder gasoline flathead Hercules engine produced 25.6 HP transferring that via a three-speed transmission. It weighs roughly 5000 lbs.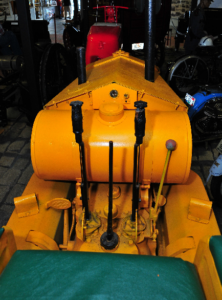 This unit was first owned by H.E. Sargent of Stillwater, Maine. It was sold to Ralph John Wakefield of Lowell, Maine in 1939 who passed it to his son Franklin in 1958. Franklin used it regularly to haul pulpwood and long wood sleds in the winter and for some farming in the summer.
Ralph Wakefield's grandson Ivan and great grandson Douglas restored it and donated it to the Museum in 1990 in the name of the Wakefield family.