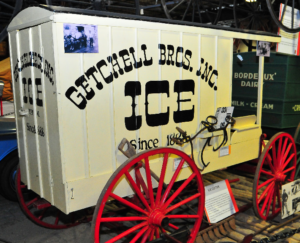 This week's "Museum Feature of the Week", is the Ice Delivery Wagon! This wagon began delivering ice to homes in 1909. However, this ice wasn't in cubes intended to be used in cold beverages, but instead delivered in large blocks sized to fit a household icebox. An icebox predates today's refrigerators, but had the same purpose – to keep dairy, meat and produce cold.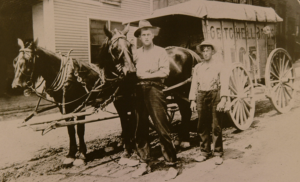 Getchell Bros. Inc. harvested ice from the frozen Penobscot River between the 1880s and 1911 and the Kenduskeag Stream from 1911 to 1944. Stored in wooden "ice houses", insulated by sawdust and delivered to homes in Bangor and Brewer using wagons such as this. Today (2013), ice delivery has since been eliminated, however the Getchell Bros. are still located on the riverbank in Brewer and provide blocked and cubed ice to stores statewide.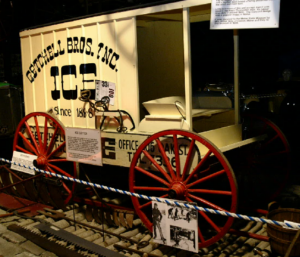 Ice delivery trucks replaced the horse-drawn wagons in the early 1930s. Ice delivery was quickly abolished by 1950 due to the widespread development of refrigerators. This wagon was restored by Baltimore American Ice Company in 1965.