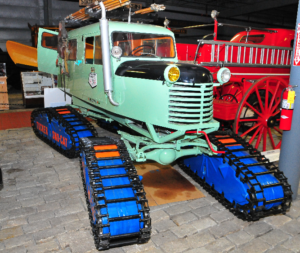 This week's "Museum Feature of the Week", the Tucker Sno-Cat! The primary use of this Sno-Cat was in winter only, to access off-road and remote areas of that power company's transmission and distributions systems for maintenance and repair – both scheduled and emergency.
Its power is generated by a Chrysler flat head six cylinder engine and transferred to the articulated (both front and rear steer) tracks by a three speed manual transmission. It has 95 horsepower and a top speed of 15 MPH. It gets 8 miles per gallon of fuel.
It can accommodate six men and their normal lineman's equipment – body belt and pole climbers. The wooden laminated sticks atop the machine are typical of vintage hot line tools used to handle live wires of 2,400 to 69,000 volts.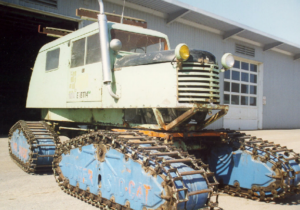 In 1963, it was used to retrieve a pilot from a plane crash (ran out of fuel) in Easton, Maine. In 1969, it was used to rescue two WAGM-TV technicians from their transmitter building atop Mars Hill Mountain during the famous blizzard that year. The rescuers traveled all night in that storm utilizing the special fog and clear headlights to see through the rapidly falling and blowing snow.
This Sno-Cat was used until March 1999 when availability of repair parts made it necessary for Maine Public Service to replace it. It was restored by them and donated to the Cole Land Transportation Museum. They also drove it from a low-bed trailer in the parking lot to its present location.