The Bombardier Ski-Doo! This snowmobile sold in Houlton in 1960, was the first Ski-Doo to be sold in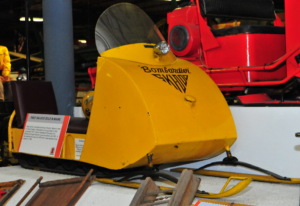 Maine.
The Ski-Doo was originally called the "Ski-Dog" because its ideal purpose was to replace the dogsled for hunters and trappers. However, a painter misread the name and painted "Ski-Doo" instead.
Lynds' Machine Shop in Houlton was the first Ski-Doo dealer in Maine, according to Willy Lynds, having signed up with Bolen Machine in January 1960. Willy Lynds, owner of Lynds' Machine Shop, received delivery of the first machine made by Bombardier Company in February of 1960. It was an Olympic Model with a 7 horsepower air-cooled Kohler motorcycle engine. It would travel up to 25 mph and carry two passengers.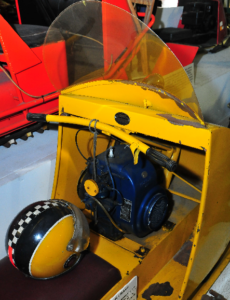 It was sold new to a man in Bennedicta, Maine who kept it for about 10 years and sold it back to Lynds who in turn sold it to a couple in Wytopitlock. Lynds sold it the second time with the understanding that when couple was through with it they would sell it back to Lynds, which they did.
Lynds stored the machine until he sold his business and dealership in 1982 whereupon he restored it with a new seat and paint. The last time the machine was run was in 1987.