MAINE CENTRAL CABOOSE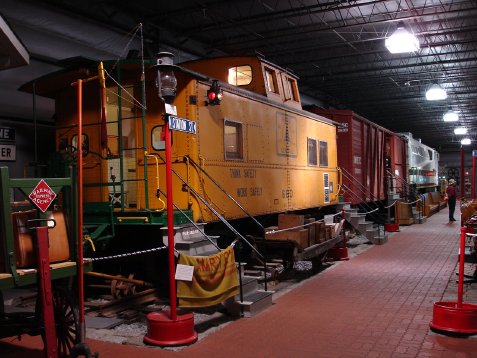 Originally, it was #1878 on Western Maryland Railroad.  This and four others were sold to the Maine Central Railroad in 1962.  It was used on the Woodland, Eastport, and Bucksport branches; the Bangor-Lincoln and Old Town switcher runs.
The Maine Central Railroad retired practically all of its caboose cars when the railroad was sold to Guilford Industries on February 1, 1987, and donated this car in 1988.  Museum employees restored it to its present condition and the Thomas Dicenzo Company transported it from a nearby railroad siding to the museum.
Its comforts include a flush toilet, electric lights, oil stove, bunks, water cooler and ice box.  It weights 43,000 lbs.
Visitors can walk through and see our caboose set up as if it was ready to work on the Maine Central Line today.